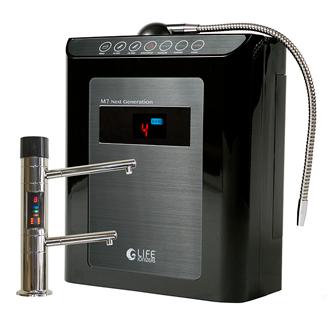 M7 Undercounter Life Ionizer
$2,497.00
The New 2015 Next Generation M7 Undercounter Life Ionizer
NEW 2015 Model!
MAX Plates™ – The New 2015 M7 Series with the New 2015 Heavy-Duty GRID Plate Technology™ with MAX Plate: 8 layers of Platinum over Industrial Titanium.
MAX Yield SMPS Power System™ – generates 450 watts*
Dual internal filters with custom pre-filter system
New Larger ultra efficient electrolysis chambers
Sleek, compact design
All Next Generation Ionizers are made with BPA Free tubing.
The LIFE Next Generation M7UC is the mid-grade ionizer that gives top-of-the-line performance, none of our competitors even comes close! Why wait for an under-powered ionizer that takes forever to fill your glass? Forget about systems like the Kangen Water® machine that need chemical additives to reach higher pH levels. The Next Generation M7UC has the Max Yield Power™ you need to deliver the alkaline water at the pH levels you want!
LIFETIME WARRANTY on all parts plus 10 years on labor. Peace of Mind 60 Day Money Back Guarantee*. Includes over $539 in Free Bonuses!