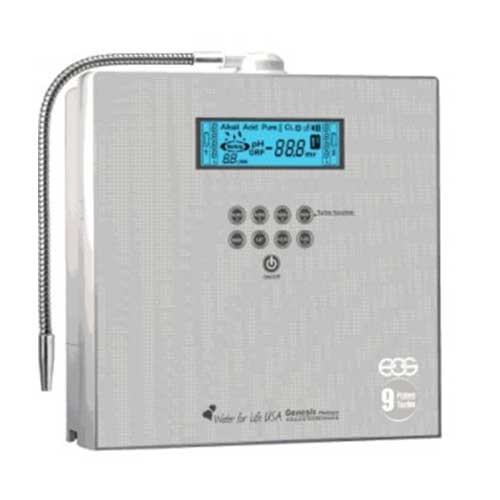 Genesis Platinum 9 Turbo Water Ionizer
$2,195.00
Countertop 9 plate turbo water ionizer with 325 watts of power, 76 pH levels, dual filtration system, seven color LCD, and modern design.
Comes with a 5 year unlimited parts, labor, and shipping warranty and also a 60 day money back guarantee.
Like all EOS water ionizers, the Genesis Platinum 9's plates are made by the Heesung metal company of Japan, the top rated metal company for making platinized-titanium plates, so you get the absolute best water ionization.
Also includes a 16 filtration system that removes fluoride, heavy metals, chlorine, fluoride, and every other pollutant in your tap water.
New! Turbo Button. One simple push creates the strongest pH water for cooking and disinfecting.
Nine Platinum-Titanium Plates. With patented EOS slotted plate technology.
325 watts.The power necessary to ionize virtually any US water.
SMPS Electrical System. Reduces heat and increases ionization precision.
76 pH Levels.More than any other water ionizer! Customizability to fit any water.
7 Color LCD Screen. Displays pH, ORP, filter life, and more.
16 Stage Filter System. Best in the industry. Cleans and revitalizes water before it is even ionized! Sulphite free.
Unsurpassed Design. Designed by top EOS engineers to look great and perform better than any other water ionizer.
Automatic Cleaning System. Industry leading. Senses contaminants on plates and only cleans when necessary, so water and energy aren't wasted.
5 Year Parts, Labor, and Shipping Warranty, Lifetime Warranty on Plates. Some companies are offering so-called Lifetime warranties. They are very limited. Our warranty is unlimited and covers everything for five years!
60 Day Money Back Guarantee. If not totally satisfied, return it within 60 days for a refund minus the industry standard 15% restocking fee.
No other drinking water ionizer and alkalizer communicates to you like the Genesis Platinum 9! It tells you the filter life remaining for the number one and number two filters. It tells you the water flow in liters per minute. It displays the pH of the water as well as the ORP (by pressing the "set" button). If there is a problem with the Genesis, it displays an error code to tell you what's the problem. In the Genesis setup, it displays the 76 different ionization levels, the volume, the dozens of ORP levels, and so much more!
The Genesis Platinum 9 has nine patented slotted plates inside a huge electrolysis chamber, designed for power, precision and performance. EOS is the only water ionizer manufacturer with an exclusive relationship with the Hee Sung Metal Company, the top rated metal company in Japan. That's why we offer a LIFETIME WARRANTY on the EOS electrolysis chamber!
Solid, flat plates, like those used in the Enagic Kangen SD501 Water Ionizer, have a major problem in that the electrical current flows around the edges of the plate, leaving the center of the plate mostly unused. Most water ionizer manufacturers have addressed this problem by putting mesh over their plates, so the whole plate is utilized during ionization. But mesh has a major problem in that it puts ridges on the plates that capture minerals, and as the minerals build up, ionization gets weaker, forcing customers to clean their plates often. Only EOS has solved this problem by offering patented slotted plates that utilize the entire plate without having to use mesh!
The EOS dual filtration system offers 16 stages of filtration, including an ion resin exchange level for help in the removal of fluoride. They use pure coral calcium from Australia to put just the right amount of minerals into your water to enhance ionization. They also use ceramic balls, activated carbon, antibacterial felt, and sediment filters to thoroughly clean and revitalize your water before it is even ionized. EOS filters are sulphite free and medical grade.